Dennis Slattery
President
---
Dennis has lived in Ashland since 1977.  He has had three careers during that time, first in the hotel business, then as a CPA and finally as an educator at SOU. Dennis has an undergraduate degree and an MBA  from SOU. Dennis has served on numerous community boards including the Ashland Chamber of Commerce, the inaugural  SOU Board of Trustees, and the Ashland City Council for two terms. Raised in the Bush of Alaska among the Native People, Dennis has a deep appreciation for communities helping each other and finding effective solutions to take care of those most impacted. Dennis is married to his best friend, Sandra, and together they enjoy being involved in many different paths of service to the community.
Cathy Gerbracht
Vice President
---
Cathy retired to Southern Oregon with her husband in 2018. Her career in the health insurance industry spanned 26 years working for Anthem Blue Cross and Cigna as an Account Management Executive responsible for negotiating renewals for large corporate clients in California. Prior to that, Cathy was Vice President of Personnel for a large privately-held company in Pasadena, where she obtained and maintained her Senior Professional in Human Resources certificate (SPHR) for almost two decades. Cathy graduated with a BA in Business Administration Management from the University of Phoenix, and has held multiple financial and insurance licenses in multiple states. Cathy has been a weekly volunteer at the OHRA Resource Center since 2018, and is active in her church and other philanthropic organizations.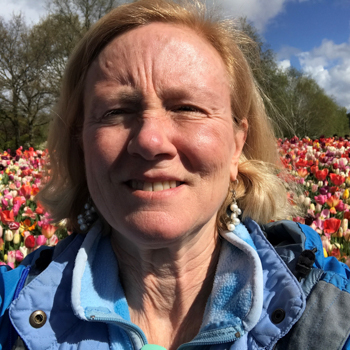 Eileen Piker
Treasurer
---
Eileen has 25+ years with JPMorgan Chase in NY and SF as well as 5 years with Crocker Bank in SF. After working as an associate in the Investment Bank, Eileen completed JPMorgan Chase's Credit and Corporate Finance Training program in 1990. She held Relationship Manager and Credit Underwriter positions responsible for managing client relationships and developing new business in the Commercial Bank. Eileen worked with a wide range of Healthcare, Higher Education and Not-For-Profit clients as well as Mid-Sized companies in diversified industries located in California, New York and Boston.
Eileen has a BA Degree from Allegheny College and completed a Managed Health Care Certificate program from New York University as well as advanced accounting at Golden Gate University in SF and Pace University in NY.
In 2012, Eileen joined the San Francisco Board of Women's Initiative for Self Employment. Eileen served as Co-President of the Board of the Community Center of Northern Westchester, one of the largest food pantries in Westchester County, NY and as Treasurer of the Board of A-Home, which provides affordable housing for seniors, disabled and single parent families in Westchester County, NY.
Since retiring to Ashland, Eileen has served as a volunteer with Trinity Episcopal Church (Board Chair and Finance Committee Chair), Options for Helping Ashland Residents (OHRA) Homeless Shelter (Finance Committee) and Medford Garden Club (Treasurer.)
Jodi Rasor, CPA
Secretary
---
Jodi Rasor is a Director with Holman, an integrated global automotive services provider.  Prior to that, she was the Vice President of Dealership Accounting for Lithia Motors.  She is an Oregon native who completed her undergrad in accounting at Oregon State University (GO BEAVS) and a Master's in Taxation from Golden Gate University.
Jodi has a passion for developing meaningful working relationships through building teams, collaboration, and creating connection across varying perspectives.  She is an active member of Women of Holman, has served as the President of the Southern Oregon Women's Leadership Conference, and was also a founding leader of Lithia's Women LEAD.
Rev. Dan Fowler
Past President
---
Rev. Dan Fowler is pastor at the First Presbyterian Church in Ashland. He joined our community in February of 2017 after serving as a pastor in Fort Bragg, California for 14 and one-half years. While there he served on the Food Bank board for eight years with two years as president. He also served Mendocino Coast Hospitality Center board for two years. The Hospitality Center provides transitional housing, mental health support, job training and coordinates the local winter shelter. Dan also has clinical pastoral experience as a hospital chaplain.
Dan loves to sing. He also plays the piano and guitar. He has a degree in vocal performance from San Francisco State and a Master of Divinity degree from San Francisco Theological Seminary. Running and collecting old 8-bit video games are among his hobbies.
Diane de Ryss
Past President
---
Diane de Ryss has nearly 30 years of experience in management and leadership, particularly with organizations undergoing significant growth and change. Throughout her career, Diane has gravitated to work anchored in social justice and equity, in the government, for-profit and non-profit sectors. Prior to retiring and moving with her husband Bruce to Ashland, she worked for 12 years at the Bill and Melinda Gates Foundation. Diane is a graduate of the University of Washington, and has a JD from USC in Los Angeles. She is an experienced board member, including the Seattle Audubon Society where she was recognized for improving SAS's governance.
Jackie Bachman
Jackie Bachman retired to Ashland with her husband, Jim, in 2015, after working for 36 years as a California public school teacher, site, and district administrator in Special Education. She served on the Ashland City Council as an appointed member from March to December, 2018.
Jackie actively supports several community organizations, including OHRA, the Ashland Culture of Peace Commission (ACPC), the Food Project, The Osher Life-long Learning Institute (OLLI), and the Senior Services Program. She also serves on the Housing and Human Services Commission.
Sachta Card
---
Sachta Bakshi Card was born and raised in India and moved to the United States to attend SOU in Ashland, Oregon at 17. Sachta spent her career in finance at a global accounting and auditing firm before becoming an entrepreneur and investor within the hospitality industry. Currently, she is the owner of multiple restaurants in Ashland and advises several other small businesses in the region. She currently is the Vice Chair of the Oregon Shakespeare Festival (OSF) Board.
Sachta is an honors graduate of Southern Oregon University where she received her Bachelors of Science in Business Administration and Economics from Southern Oregon University along with a Certificate in Applied Finance and Economics. During her tenure at SOU, she received the prestigious American Association of University Women's award for the Outstanding Woman Student in Economics. She also has a Master of Business Administration from San Francisco State University, a Master of International Business from University of Nice Sophia Antipolis, and a Master's in Management from Southern Oregon University.
Sachta has been a community leader since the Almeda fires in 2020 and has provided more than 150,000 meals to the fire displaced and unhoused through her businesses. She has a deep love for the work and continues to give back to the community any opportunity she gets.
Montye Male
---
Male has been associated with OHRA since moving to Ashland in 2014, after retiring as vice president of communications for a major forest products company.  Her corporate experience including managing crisis communications, branding, media relations and marketing communications as well as speech writing and executive coaching for a number of Fortune 200 companies.  Prior to moving to Ashland, she served as president of the board of directors of a nonprofit that operates a food bank, thrift store and navigation center in western Washington.  She has also done volunteer work for the Boys and Girls Clubs and Big Sisters in Puget Sound.  Montye began her career as a newspaper reporter after graduating from Syracuse University with a degree in communications.
Montye and her husband, Joe, can often be seen walking the trails with their standard poodle, Jamie, but Monty's favorite place to be in on horseback.
Meiwen Richards
---
Meiwen was born and raised in Taiwan. She Has lived and worked in Taiwan, Seattle, Eugene, Ashland, China, Japan and Ukraine. She had a 30 year career in banking mostly in Ashland. She has served as board member with the Ashland Chamber of Commerce, Chamber Music Concerts, and the Ashland Community Hospital Foundation. She serves on the ACHF scholarship selection committee. She is a founding member of the Southern Oregon Chinese Cultural Association. Meiwen's interest in OHRA started in providing hot meals for winter shelter guests.
Deneice Zeve
---
Deneice moved to Ashland from the East Coast in 2000 to raise her family (daughters Amelia and Greta). She has a B.S. in Economics from Penn State, a J.D. from Dickinson School of Law, and has worked as an antitrust attorney as well as in complex mergers and acquisitions. While in Ashland she has served her beloved community in many ways, including as chair of the Ashland School Board for many years and the ScienceWorks board of directors. She is excited by the good work OHRA is doing and hopes to support it in any way possible. 
Ben Bellinson
---
Ben Bellinson has lived in Ashland for twenty years. Professionally he is founder and ceo of waggedy®, a company that formulates and markets vitamins and supplements for dogs. Previously he he led Bellinson & Company, a business-to-business research and marketing firm; Bellinson & Company's' clients included The Walt Disney Company, ESPN, NBCUniversal, and other major media companies. Prior to moving to the Rogue Valley he was director of external affairs for the J. Paul Getty Trust, led product and marketing at CareerPath.com, and worked for twelve years at The Walt Disney Company in various programming, business development, and account management roles.  Being involved in the community is important to Ben too. He is current board chair of The Hearth, and has volunteer leadership roles at Temple Emek Shalom, Ashland School Foundation and other Rogue Valley organizations. He is married to Linda Bellinson and they have two adult children. He has a Bachelor of Arts from UC Berkeley and was a fellow with the CORO Foundation.  
Libby Gill
---
Libby Gill and her husband relocated to Medford in August, 2021 after many years of living in Los Angeles. She is the founder and president of Libby Gill & Company, a leadership coaching and consulting firm. Her clients include Bank of America, Disney, Honda, Microsoft, PayPal, Rogue Credit Union, Sony, The Human Bean, Women's Leadership Conference of Rogue Valley and many more.
Libby is an international speaker and an award-winning author of six non-fiction books, including You Unstuck and The Hope-Driven Leader. Prior to founding her company in 2000, she was the head of public relations and corporate communications for Sony, Universal, and Turner Broadcasting. Libby is the former Vice Chair of Didi Hirsch Mental Health Services, the first and largest suicide prevention center in the country. With a deep commitment to serving people experiencing homelessness and mental illness, Libby is delighted to join the OHRA Board. In her free time, Libby enjoys gardening and attempting to learn golf.